8 800 444 71 09
To inform on imminent crimes, actual or reasonably suspected economic, financial or goodwill damage to the interests and assets of the Group of Companies.
Learn more
Naftagaz-Drilling is the drilling
subsidiary of NaftaGaz,
performing full range of works
on drilling of oil and gas wells
of all types and any complexity.
Naftagaz-Drilling has advanced production capacities and modern production bases in the cities of Noyabrsk and Muravlenko
of Yamal-Nenets Autonomous Okrug.


Production
Processes
Top drive systems, variable flow drilling mud pumps, modern four-stage mud cleaning systems, high-strength light-alloy and steel drill pipes of improved reliability.
High-end technologies in the field of well construction: high-torque bottom-hole motors; bits reinforced with polycrystalline PDC type diamond cutters.
Modern systems of drilling fluids are applied to carry out accident-free and safe well construction operations.
Techniques of running the 114 mm, 127 mm and 178 mm pipe liners without cementing of the producing horizon using self-swelling packers.
Software and
"Digital Drilling
Rig"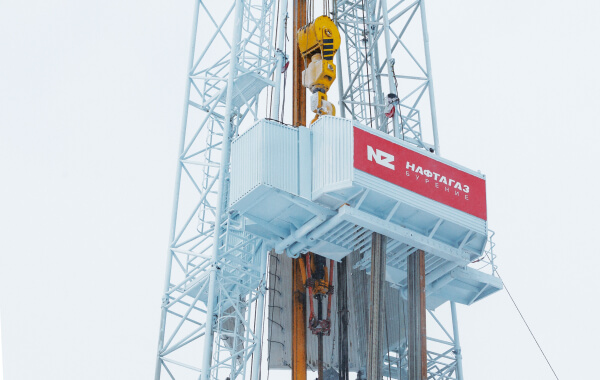 Licensed software products are applied during well operations.
The Company uses Peloton Siteview, Peloton Wellview,
AS-MTO, Oracle EPM, Geo Time Online, 1C software.