8 800 444 71 09
To inform on imminent crimes, actual or reasonably suspected economic, financial or goodwill damage to the interests and assets of the Group of Companies.
Learn more
Naftagaz-Drilling commissions a new drilling rig at the Yarayner oilfield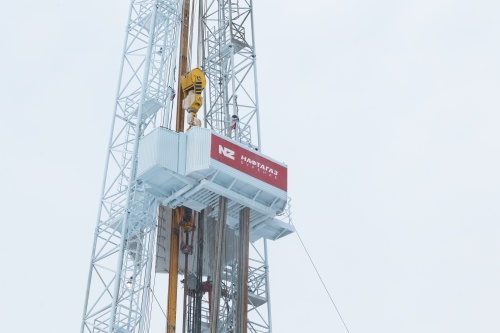 A state-of-the-art drilling rig manufactured by order of Naftagaz-Drilling has started operation at the Yarayner oilfield of Gazpromneft-NNG. The company is going to drill totally 5 wells at oilfields, 1 contreolled directional well and 4 horizontal wells.

The rig is specially developed for multiple drilling operations under conditions of Western Siberia. Drilling depth is 3900 meters; operation is possible at the temperature of minus 45 degree. Equipment has a series of advantages: increased derrick capacity up to 225 tons and substructure height up to 8.2 meters, 2 triplex pumps capacity 1200 kWt and 4-stage mud cleaning system.

"Drilling of oil and gas wells is one of the most complicated and dangerous productions. Program of the drilling stock upgrade is a serious and real step for the company aimed to increase its competitive performance and equipment safety level, create safe working places and conditions. The customer has obtained the drilling rig meeting the highest standards. The rig allows drilling all types of wells" - noted the Chief Engineer of Naftagaz-Drilling Vladimir Perepelitsa.

New rig has also a series of improvements ensuring comfortable and safe working conditions. Thus, along with technical features the rig substructure height is increased by one meter which ensures safe mounting of blowout preventing equipment. Stairways and decks are equipped with anti-slip materials and reliable railing, a commercially manufactured block-box for rest of the crew members during routine breaks. This increases both security level of the drilling crew and efficiency of their production activity.

"In the process of the new rig development we considered the previous experience and created comfortable working conditions for drillers. Successful business development is impossible without harmonious development of all constituents. Upgrade of the drilling rigs stock and creation of the safe working conditions are our priorities" - noted the Deputy Director General for industrial safety and labor and environmental protection of JSC NaftaGaz Serik Mazhkenov.

Till the end of the current year another 1 drilling rig will be commissioned at the oilfields of "Gazpromneft-NNG", and in 2017 "Naftagaz-Drilling" will purchase 6 new rigs more. The company plans to upgrade its drilling rigs stock by the end of 2018 and reduce the average age of rigs to less than 5 years.